Image via Pixabay
We'd made a date for sex. I thought I'd feel strange about it – even though it was my idea. Instead I anticipated it, almost couldn't sleep the night before. And, most importantly, cleared mental space in my day for it, knowing John Brownstone would decide where and when.
"Babygirl." He reached out a hand. "Are you ready?"
I glanced at the time. Ten in the morning. We're having sex now?! Yippeeee!
Did we fall into lustful kinky fuckery? Of course we did, but first…
The bed was pulled down. The new come towel (The Love Mop – received in exchange for an honest review) was laid out. And I  bent over the side of the bed.
He hadn't undressed. Only unbuckled his belt. That belt is something I'm keenly aware of. We've played with belts in the past – they do something to me I can't really explain, but I like it.
Normally my brain would spin with questions (and my mouth would follow): Why is your belt unbuckled? Don't you want me to undress? What's going to happen??
But this time I savored the anticipation. I didn't know what would happen and that was the point. The not knowing sent my mind spinning in delicious turns.
His hand came down on my ass. Falling into an easy rhythm, we played. Until he pulled my pants down over my ass. Gawd, I love that. Being bared to him. Realizing just how much of this, of us, of me he controls. Even whether I have clothes on or not.
More smacks. And then I heard it. The clink of the belt buckle. My everything clenched.
He snapped it near my ear. I whimpered. He did it again. I squeaked. Then the belt came down on my body. Because I anticipated more pain than I received, I had a big reaction. But he was gentle(ish). It didn't hurt so much I couldn't enjoy it.
I don't know when he tossed it aside. But I know what he did next.
He kicked my feet apart and plunged warm fingers deep in my body.
Lately I've fought against that kind of pleasure – not him, but in my mind. This time…I gave myself over to it. Just…accepted it. Desire, need, and pent up energy built and bubbled over.
The first orgasm is never the biggest one. It's just the most bone-crushing. My entire body tensed and flexed.
Before I could recover he flipped me over. Huh? Ohhhhhhh….
Pulling my legs up and back, he spread my body open and fell on my cunt with an eager tongue. I squealed and grabbed his ears, alternately holding on and steering. Pleasure racked my body. My legs closed on their own. He smacked my thighs and cunt, ordering me to open up.
With my ass still on the edge of the bed, and my knees bent and spread, he plunged his cock deep. The angle was perfect. My body was primed. He hit my g-spot while his pelvis managed to grind against my clit (gotta love a man with a tummy). I'm supposed to ask for permission before an orgasm. There was no time or thought. There was only wave after wave of quaking pleasure.
We fucked and fucked and fucked. He tossed me into a different position. I was spent, used up, exhausted. No more orgasms for me…and, it seemed, none for him.
"What? You're not getting off?" I was offended at the thought, that after all the pleasure he gave, he wasn't getting his own release.
"It doesn't look like it."
I may have growled or grrr-ed. "Why not try a toy? Get yourself off, I don't mind."
"You're sure?"
Positive. I wanted him to have an orgasm — I didn't care how he got it. He tried his Pulse Duo from Hot Octopuss, but it wasn't charged up.  Sinking into the pillows, he seemed reconciled to it.
"Try my Queen Bee. It's the same technology, right?"
"Yeeeeeah…" Skeptical but willing, he waited while I grabbed it out of the nightstand and turned it on. I passed it over and he held it against his body.
Within seconds his toes clenched, his body tensed, and he was lost in the moment. Not much later, he came (he was closer to the edge than he realized, I think) and grabbed the Love Mop to clean up.
Now we could go about our day. But first…a shower.
More than 12 hours later, in bed for the night…
I was reading the January book for Kinky Book Club. Alphas and shifters and dominance, oh my. As Nero Black calls it, "Kindleporn."
John Brownstone had already turned off the light and rolled over.
Nope, this won't do.
I threw my leg over his torso and straddled him as he lay on his side. He chuckled.
"What is this?"
"I've been reading erotica." I wanted to sound sophisticated and sexy. An unsure babygirl submissive tone emerged instead.
"You have?" He never sounds more like a Daddy Dom than when he knows what I want and that I can't articulate it.
"Uh huh." Words weren't working so I ground my vulva against him. "I need you, Daddy."
"You do?" There was that tone again. Damn it, he was probably going to make me say it.
More grinding. Some nuzzling against his neck. Finally…
"Fuck me, Daddy." The words tumbled out in a rushed, whispered, garbled mess.
"Say it again, babygirl."
So I do. And he did.
When we were done, my cunt throbbing and sore from two brutal fuckings in one day, we cleaned up with the Love Mop, too tired for our usual routine.
Welcome to Masturbation Monday! No masturbating for us but plenty of hot fucking, orgasms, and wet messes. Ready for more one-handed reads? You know where to go…and if you're curious about The Love Mop, scroll a little further first.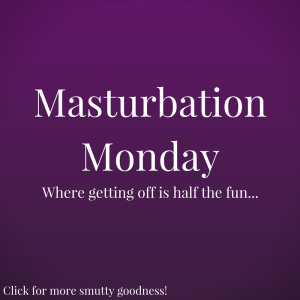 About the Love Mop
As someone who has flooded the bed with squirty orgasms on multiple occasions, I'm always interested in anything that takes care of our sex messes. But I also knew the Love Mop was not made for my gushes. I simply produce too much fluid, and it's not that big or thick. That didn't mean it couldn't be useful.
You can read about the special cloth and weave on their website. I don't know how much of a difference that makes. What I'm sure of, though, is that it's definitely better than the old, worn beach towel we've used in the past. And I was able to get more than one use out of it. Even better, it's nice to hold and feels good against my skin. John Brownstone agrees.
Why was trying this towel significant to us? You see, I have a post-sex routine that definitely fits my Type A personality. Once I regain the ability to walk and move (and sometimes before), I stumble to the bathroom where I pee, clean myself up with a Charmin wipe, and then sadistically torture clean his cock with a fresh wipe. (Hint: it's veeeeery cold.)
This time, we used the Love Mop. John Brownstone wiped his morning come on it and later that night, easily more than 12 hours later, he used the other side to wipe himself clean. While the post-sex pee is still an absolute necessity for me, I, too, used the towel.
It works. He reported that he felt completely clean – no sticky residue. I did, too, although the scent of sex stayed with me. The dried semen was definitely detectable on the towel later but it didn't penetrate the other side. There were plenty of clean spots so we could use it a couple of times before throwing it in the laundry basket. Hell, if necessary, we could probably have used it a few days later before we washed laundry. We didn't, but we could have.
To Buy a Love Mop or Not?
For the price and what it does, the Love Mop works. I know my sex clean-up routine isn't eco-friendly. Flushing Charmin wipes isn't the best thing (although I loooooooove them). So for a quick wipe down, especially after a bit of masturbation, it definitely does the job.
If you're looking for a method that's eco-friendly, better, easier, and nicer-looking than tissues, dirty laundry, or old towels, it's worth it. As of the date of publication, the price is $16.99 for a white Love Mop. And if you're broke, enter their monthly giveaway. When you do, you get a coupon for a future purchase.