Full disclosure: We love Hot Octopuss so much that we joined their affiliate program in late 2017. If you decide to buy this or any other product from their website and use our link, we make a commission and keep our coffee addiction alive and well.
"Still wet from last night?"
His satisfied grunt as he sank his cock into my body needed no response. Yes, I was still fucking wet. I'd gone to bed with a delicious ache between my legs and fell asleep hoping he'd fuck me when he woke up.
I may or may not have pressed my body against his in the pre-dawn hours as he snoozed away, hoping my cat-on-the-prowl like heat would wake him up.
I wasn't exactly soaked on first thrust. My wetness from the evening before was really a dampness, but I like fucks that are rough and sometimes a little painful. Friction isn't all bad.
Maybe my suggestive rubbing while he slept permeated his consciousness because he returned the favor with warm hands up and down my back, over my shoulders, digging into my hips, before finally settling in with two fingers pinching my nipple and the other in my hair. It hurt. It was decadent. I could do this all morning.
Definitely worth the wait.
The night before…
"I have to masturbate tonight."
If I hadn't been so tired, maybe I would have been more excited. I should have been more excited. One of my favorite companies, Hot Octopuss, sent me a clitoral stimulator that I'd coveted for months – the Queen Bee (received in exchange for an honest review).
But I worried, too. Respected reviewers hadn't loved the Queen Bee. The last vibrator I tried had been a dud. What if???? Better to procrastinate than be disappointed, right? Well…no.
Towel across the bed. Naked me. Fully charged Queen Bee.
"Let's see what this thing can do."
John Brownstone read and I played. As you do.
I'd read other accounts. I knew what to expect when I turned it on. BRRRRRRR!
The Queen Bee is loud. Very loud. Nothing discreet about her.
I imagine a diva making her entrance into a room with big hair, big personality, and big…everything. "I'm heeee-eeeeere!" she declares with each buzz.
As someone who loves my Original Magic Wand, I'm not scared of noise. I've been blessed with children who can sleep through anything.
The Queen Bee isn't your typical vibrator. Because it doesn't vibrate, it oscillates.
"Does this feel like your Pulse?"
I handed the toy over.
"Yep. That's the feeling."
Okay, well, here we go…
I pressed it against my clit. It felt good, but…
"Let's play with the buttons."
Once. Twice. Oh wait, that feels like something!
And it did. Oh fucking hell, it did.
My toes clenched. I grabbed at the sheet. Opening my legs wider, I let that oscillating plate cover more of my clitoris.
It took a few minutes, I won't lie, and plenty of adjustments, but a slow burn crept through my body. Orgasms don't tend to sneak up on me. They're either there or not.
This one? These several? The big gush of fluid that poured from my body?
Every single one took me by surprise. Until they began to roll in as I pressed the Queen Bee against my body, my heels digging into the bed as if to brace myself for impact.
I opened my thighs wider. Too much! I closed my thighs around the Queen Bee. Too much!
Masochist that I am, even too much was fucking glorious.
Yes, yes, yes, YES!!
Finally, I hit pain that was no longer pleasure and pulled the Queen Bee away. Gasping for breath, I stared at this hairbrush-sized toy in wonder. Wow.
Again!
Exuberance and desire only get you so far. Although I played with the settings and angles against my vulva, I couldn't get back to the bone-crushing pleasure from before. It was like I'd reached my quota for the night. Small, tremorous climaxes followed but the big moment had passed.
Until, that is, I tried to fall asleep and realized my body ached for more. Queen Bee is too loud to use discreetly, as John Brownstone snored next to me. I would just have to wait…
Happy Masturbation Monday
Y'all know I rarely combine Masturbation Monday with a sex toy review (although it's happened in the past) but the sex I had this morning was just too good not to share. And I've given myself a self-imposed deadline with the sex toys in my review pile so…hopefully, this was hot enough that you forgive me. If you want to know more about the Queen Bee, keep scrolling, but if you came for the smut, let's get you to where you want to be…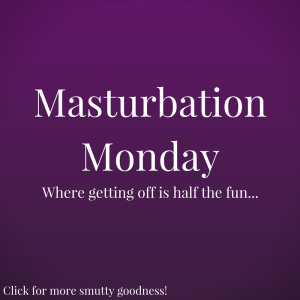 About Queen Bee from Hot Octopuss
In this kinky fuckery household, we looooooove Hot Octopuss. John Brownstone has used his Pulse multiple times – alone and with me – to our mutual delight. I've also met some of the amazing people (shout-out to Aly and Alex!) who work at Hot Octopuss. So let's get that out of the way – I'm not objective about the company, but I try to be objective about any sex toy that provides pleasure…or doesn't.
Let's start with what I like (okay, loved) about Queen Bee:
It's got a nice weight and size to it. If you think it looks like a hairbrush, I think you're right. I feel like I could leave it out and it would be mistaken for one. It's solid in your hand when you hold it.
The orgasms – once I got there – were brilliant. The oscillations were deep and rumbly, my favorite kind of sensations. Because of the shape of the head, the majority of my clit felt the sensations. A surround-sound experience is very good for my orgasms.
I like the wider head/plate design. Because my clit is so sensitive, anything that pinpoints one spot can become painful very quickly. The Queen Bee enveloped me instead. Like an orgasmic hug…
So, no sex toy is perfect, and I'd be disingenuous if I said otherwise. Here are the not-so-awesome things that might be deal breakers for you…
Queen Bee might be my current bae, but she's fucking loud. Because of this, she can't be a go-to toy. I have to pick my time to play very wisely. But I'm totally keeping her in the nightstand.
The oscillating plate is curved, and I think I'd love it more if it were flat. It takes some practice to find the sweet spot. I really wanted to just lay it across my clit and enjoy the ride. Instead, I had to move it around to find a good angle.
The buttons aren't awful, but like the rounded plate, they take practice. Once I found the right way to hold it and set my fingers straight, I was fine and cycled through all the different settings. But I can see where others might have problems with it.
I (and I assume this is likely universal) couldn't just press the Queen Bee against my clit and grind it out. The sensations dulled a bit when I did. It was a dance between too much, not enough, and just enough pressure – and my clit is Goldilocks.
Basically, Queen Bee requires a bit of effort and willingness to find what works for you. But I've found many new, high-tech sex toys do these days. If you're looking for a quiet, discreet orgasm, she might not be the one for you. But if you like deep, rumbly sensations and for most of your clit to feel them (and you don't worry about noise), Queen Bee might be a good option.
Want to check her out for yourself? Click here to learn about the Queen Bee.
And yes, I've anthropomorphized my Queen Bee, but I think she's good with that. She may be a diva but she's my diva.