On Friday night, we tried sex toys we didn't like. It was a bummer, but it happens. Sometimes you've just got to go with the classics.
John Brownstone stood up and went to the chest at the foot of the bed. He rummaged around for a minute, but I already knew what he was looking for. The Original Magic Wand aka the Hitachi or, as I sometimes call it, holy-fucking-shit-get-that-thing-off-my-clit!
I can't tolerate it for too long, but I love it anyway.
We both groused over the other toy and compared it to the heft and weight of the magic wand. No real comparison there. This no-name cheap thing couldn't compete.
"Daddeeeeee, I ache!" The whine was strong tonight.
The last toy had been nothing but a tease, and I was desperate for the bone-crunching, tidal wave orgasms the Hitachi give me.
He chuckled, plugged it in, and set it just above my clitoral hood, at the angle I usually hold it. Direct contact with the clit would give me one explosive gush and then I'd be done. This way, though, aw fuck, this way the orgasms would build on top of each other. From this angle, I'd sit straight up from the force of the pleasure.
And I did. As I always do. It's a classic toy and those are my classic moves. But I wanted something different because the old familiar method wasn't enough either.
"Press it against me from the other end."
The "other end" is probably the classic view kinksters and Tumblr porn pervs  know best. The wide head pressed upward against the clit, the handle pointing toward my feet. Usually it's too much, especially if he ties my legs apart. But this time, something about the angle was perfect.
I ground my cunt against the vibrating head, wave after wave of electric pleasure coursing through each limb. My nipples went rock hard. Goose bumps pebbled my skin. I choked on squeals and squeaks.
The first orgasm exploded in every direction. My body flattened against the bed before curling in on itself. He tried to pull the magic wand away.
"Nooooooo! I need more!!"
I shocked him, I know it did, because this wasn't my normal reaction. But I desperately wanted to press my aching cunt and clit against my toy and ride out the intensity. I wanted more, more, more!
I got one more bone-crunching, muscle-spasming climax from it before I could take no more. It was delicious.
Too bad the ache hadn't gone away. Or maybe that should be "Thankfully, the ache hadn't gone away."
I whined and complained that I needed more, but my clit was too sensitive for any contact. That's how I ended up with thick fingers deep in my swollen cunt, stroking and tapping my g-spot as I thrashed on the bed. I clenched around his hand.
The bedroom smelled like sex. I smelled like sex, but I was wrung out, done, exhausted.
In one final classic move, he pulled his fingers out of my cunt and placed them on my tongue. Good girls always clean up their messes, and I'm his best good girl.
Welcome to Masturbation Monday! Over the past few weeks, we've gotten our mojo back. It's starting to feel like old times. Oh, and before any of my sex blogging friends says it — yes, I know Doxy is supposed to be great, and yes, I'd love to try one. It just hasn't happened yet.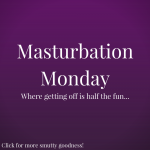 Disclosure: Affiliate links are used in this post. If you click the link and make a purchase, I make a small commission which fuels my blog, my kinky fuckery, and my coffee addiction.