"Do you think you're supposed to have boundaries?"
Is it wrong that I stumbled on this question? My poor therapist. I think he thought he knew me. As I hesitated, his eyebrows flew into his hairline.
"Well, um, yeah…?" The answer wasn't supposed to be in the form of a question. Even I know that.
"Do you have boundaries?"
"Of course I do." But the line between my mother and myself is less a barrier and more an outline.
"Do you believe that whatever opinion your mother has of anything, including you, is her own problem?"
"Well…."
Again, those eyebrows.
Do I have boundaries? Fuck, I have walls, y'all. Thick ones. Very few people penetrate any further than I want them to.
But my mom, my remaining parent, the one who was there in all the worst moments of my life? Yeah, our boundaries aren't so great. I still haven't told her I'm going to London. Why? Because a lie of omission to my mother is not much different than a bald-faced lie. At least in my mind, it isn't.
Boundaries aren't an issue for me, until I care. She's my mother, of course, I care deeply. So what seemed easy several weeks ago (when I didn't even have a plane ticket yet) is much harder as Eroticon approaches.
The whole conversation brought up another point, though. Something that still surprises me.
I've almost completely dropped my vanilla social/online persona. Oh, clearly I'm still me, over there writing about business topics that pay the bills but do nothing for the soul. But I don't talk about my vanilla work or life, share it, brag about it, or worry over it. My social media posts in the vanilla world are almost non-existent.
I have nothing to say to the vast majority of the people on that side of my life. The people who matter to me most in the vanilla space know how to talk to me outside of places like Facebook or Twitter where everyone is either yelling at each other or pretending their life is better than it is.
For months, possibly years, I've felt like I'm leading a double life. I've been pulled in half. Be proud of my accomplishments, of my friendships, of the life I lead over here in the kinky space but never say a damn word to the vanilla world. It felt duplicitous. How can you call yourself open and authentic if you hide huge chunks of who you are? I'm still not sure I have an answer to that one.
Sometime around the beginning of the year, I had a second thought. I considered the situation in a different way. It has made all the difference.
Instead of worrying about who I appear to be in the vanilla world – a writer who doesn't (from their perspective) write very much, I left it behind. Oh, the vanilla Facebook is still there. The vanilla website is (technically) still up. God knows I'm still writing the topics that pay the bills. But there's no rule that says I'm required to share anything with that side of my life. The boundary is clear. (And yes, I'm aware there never has been a rule that says I have to share anything with anyone.)
By putting that line, a very clear, definitive boundary, in place, I immediately felt freer.
No more worrying that I wasn't sharing enough, doing enough for the vanilla world to see. No more thinking I have to build something for them to see and appreciate. (Who made that rule?!) No more wishing I could be the "real" me online. Fuck, I am the real me right here, as Kayla. I have some boundaries in this space, but this is probably the most genuine picture of who I am that I'd ever share online.
I'm spending more time in social spaces as a result. Conversations on Twitter are easier. Hell, I started a kinky Instagram – because there are so many pictures I take that I want to share in one space with people who get it, won't think it's weird, and might even like it. I feel like I have space to be who I am, within the boundaries I've already set. No need to explain why I'm posting an image, sharing a link, or making a statement. The people in these kink-friendly spaces already know me – or can figure it out for themselves fairly quickly.
Without a better boundary in my head of who I want to be and what I want to share and the people I want to spend my time with, I'd probably still question everything, do almost nothing, and feel conflicted. But now that I've set the boundaries – who gets to know what, what I share and with who, and where I spend my time – life has become simpler, quieter, and infinitely more peaceful.
Back to the conversation about my mother and our boundaries. My therapist got me to do a role play thing (something I detest). We practiced what I think she might ask (because nosiness is genetic) and how I can respond. In the end, she'll know I'm going to London for a writing thing because I want to, and that's all she needs to know. Hell, if she respects my boundaries, maybe I'll even bring her a souvenir, lol.
The rest? Well, turning my back on my self-imposed expectations of who I'm supposed to be in and to the vanilla world lowered my anxiety. It never occurred to me that the conflicts in my head over my vanilla life and my own boundaries might have something to do with my anxiety. Now I know.
So, yes, on second thought, I'm quite sure I'm supposed to have boundaries.
Welcome to Wicked Wednesday. This week's prompt is about second thoughts – something I'm very familiar with. Click below to find out what everyone else is thinking about "second thoughts."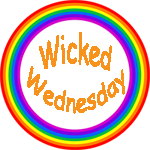 Photocredit: Pixabay