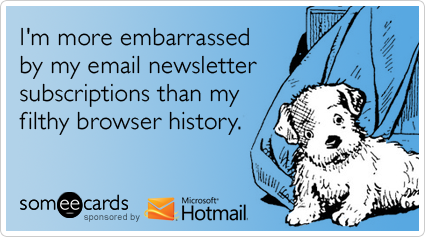 It only took me eight (almost nine) months but I am finally making progress on a few 2015 goals that were sidelined this summer.
One of them is a weekly newsletter!
A couple hundred of you already subscribe to the blog – and I love you for that – but I know you can't read everyday. Plus there's no way for me to publish a blog post for everything I want to share with you. So a newsletter was born.
What will you get each week?
A post (possibly two) I've written. Think BDSM advice/insight/info or kinky fuckery (ya know, the really hot stuff I write). Hell, MAYBE I'll include some of both!
My favorite Masturbation Monday post from the week before – or from the archives – written by any one of the amazing bloggers I know.
A good book or sex toy I recommend – based on a review or Shameless Promotion – and only if I really like it.
Other posts I've written that don't get posted on the site. Right now, I write for Kinkly and Submissive Guide on a regular basis, but you never know where I might show up.
The whole point will be to make it short and sweet and get to the good stuff.
When I have a new release or if I run a contest (rare but it happens), I'll use the list to send that info out, too as single emails.
Your information will never be sold. I won't spam you. Promise!
Why should you subscribe?
Everyone who subscribes between now and September 15 (the first newsletter will go out shortly after that), is entered to win a $10 gift card to EITHER Amazon or Starbucks. I'll let the winner decide.
After September 15, new subscribers will receive a free, original short story written by little old me. Don't worry if you've already subscribed, I'll send you a copy, too. (Win-win, right?)
Subscribe in two ways…
Click this link ==> Subscribe today
Use the pop-up box on your screen (it'll show up on your screen from time to time).
Easy, peasy, lemon squeezy! At least I hope so.
Okay, so subscribe as soon as possible, and you're guaranteed at least a free story from me after September 15 – and maybe a little prize, too!
Image via Google Images