In a perfect world, no one would enter into committed relationships, fall in love, and build a future together until we were self-actualized, happy-in-our-skin people. We'd love ourselves completely and never worry about our flaws or failings. That goes for all relationships, kinky and vanilla, of course. But we don't live in that perfect world…nor would I want to. It would probably get boring after a while.
I've had people say – to me and others – that BDSM doesn't work if a submissive has low self-esteem or is insecure.
Before I call bullshit on the basic premise of that belief, I will say this…if your low self-esteem leads you to sabotage your own relationships, that may be a true statement. In BDSM, especially as a submissive, if you can't take the leap of faith to lean on your partner and accept what they believe about you and act accordingly, yeah, it probably won't work. If you second-guess everything your Dominant says about you or to you, and you can't submit within your relationship's protocols and rules because of it, you'll definitely have problems.
But that doesn't mean if you think you're ugly, fat, stupid, or any number of the mean things we say about ourselves that you can't have a healthy relationship.
It does mean it will be harder – and require a lot of faith and trust.
Low Self Esteem is a Fact of Life For Many of Us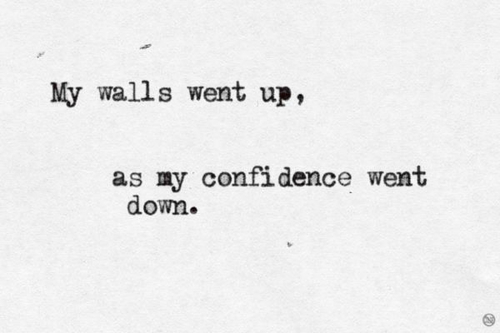 When John Brownstone and I met, I was coming off of the heels of a bad, baaaaaaaaaad break-up with my first Dominant. The break up was okay, gentle even, but my reaction was not. I went down into a mental spiral of shame, fear, and self-loathing that was probably gruesome to witness. I honestly believed that I would always be left behind by people I loved. I believed I couldn't trust in anything that felt good or right. And God forbid the thought of getting naked in front of someone new. Oh hell no.
I'm no different than many people with low self-esteem. Our reasons vary as to the root cause. For me, I've always been different from everyone around me. Too loud. Too smart (at least as a kid). Too much. Too big. Too tall. Too outspoken. Too everything. I was bullied during elementary school (ya know, some of the most formative years of our lives). It wasn't until middle school (6th grade) when I could blend in with students of varying ages and sizes and find my own tribe and my own niche.
Those ugly words thrown at me by mean kids (one of whom tracked me down on Facebook a couple of years ago just to apologize to me) stayed with me. I "accepted" that I was too much of everything and acted accordingly. I know how to blend in so well you forget I'm there. I know how to defiantly be way too much and use it to my advantage (either for laughs or shock value). Sadly, the beliefs about who I am stuck around.  I'm really good at apologizing for myself – before I even do or say anything.
D/s Helped Me
When it came time for my entrance into D/s relationships, the poor self image was still firmly in place. Those kinds of things don't magically appear or disappear over night. In my first relationship, I chose to ignore my doubts and focus on doing what I was told. In that instance, it helped. I didn't have to care what I thought, only what he thought and said. Before anyone gets their panties in a twist, I still had my own emotions, thoughts, and opinions – I simply allowed him to guide me, and I focused on that.
With John Brownstone, the best man I've ever known – vanilla or kinky – it's been different. He took an active role in changing my views about myself. Daily affirmations were a start. Consistently telling me nice things about myself were another piece of the puzzle. The biggest and best thing he did – and still does – is to be true to his word and consistent every moment of every day. I will always find it hard to take someone at their word when I see inconsistencies in their behavior. At least that's how I view it.
Silly as they sound, daily affirmations – looking at myself in the mirror and saying a series of positive things about myself – really did work. Oh, I felt like a damned fool as I did them. But the more you tell yourself something, the more you believe it. I'd spent 30+ years telling myself I was fat and ugly and weird – and I'd clearly believed it all. A year of telling myself I was beautiful and deserved happiness worked wonders.
These days I don't care much about what others think of me – physically, at least. Think I'm pretty or don't. Think I'm fat or don't. Think I'm loud or don't. It matters not to me. (I'm still working on not caring what people think of my opinions and writing skills – but we're all a work in progress, aren't we?)
That being said, even now, it's not always easy.
It's About the Choices You Make
Daddy and I don't fight, but we might fuss at one another. It's rare, but it happens. He's part Italian which means that raised voices are a fact of life. Except a raised voice makes me want to do one of two things: fall at his feet and beg forgiveness for whatever I've done wrong or it pisses me off because I detest being yelled at. A raised voice from someone I care about is a strange trigger left over from a turbulent early childhood where all of my memories of my parents centered around yelling.
When we fuss, I tend to have the same reaction (in my head, of course).
"What if he stops loving me?"
"What would I do without him?"
"I was too loud, too overbearing, too much (pick one or all) again."
"I hope I haven't ruined anything."
Outwardly, I just get quiet and walk into another room. I won't argue with him, and I'm learning not to let my reaction show because I know it's not based on the reality of the situation. I do admit to crying little girl tears of hurt and sniffling. I am part babygirl, ya know.
He has learned to wait until he calms down from his annoyance, and I've calmed down from my reaction, to come talk to me. We work through whatever the little fuss was about, and we move on.
My point is this. I consider myself a good submissive woman. Yes, I still have plenty to learn (don't we all?) but I'm a good partner and sub to him. My self-esteem issues don't interfere with that. Why?
I choose to place my trust in him and not in the mean-girl voices in my head.
I choose to allow my submissive nature to take over and push away the habits for dealing with the world I taught myself. They were for self-protection, but that doesn't mean they're right or healthy.
I choose to take a moment, acknowledge the fears and doubts that still linger after all these years – and then ignore them and trust in what I see and hear everyday.
I choose to wear armor in the everyday world. Armor that says, "I don't care what you think about me because I know exactly what he thinks. And his opinion matters most." The more I do it, the more I truly stop caring what other people think. Which is why I picked up the 9yo from school the other day with pigtails in my hair while wearing a sundress with no bra. Yeah, I really didn't care what the Judgy McJudgersons at the elementary school thought of me. It's freeing.
The self-esteem problems linger but it's how I choose to react that dictates how "good" I am as a submissive. And that's the point that people miss. The low self-esteem isn't the biggest issue – it's how we let those feelings dictate our lives. Thanks to a patient, saint of a Dominant, I'm able to triumph over the negative self-talk.
I have no doubt that other people can do that too. It helps to find the right partner – the kind that builds you up, instead of tearing you down. And of course, sometimes, it's this…
Was this post meaningful and helpful? You might enjoy my website dedicated to BDSM and helping people have better D/s relationships – Loving BDSM – a blog and weekly podcast devoted to helping people find and enjoy healthier D/s relationships and kinky lives. Check it out at https://lovingbdsm.kaylalords.com.