Since I was very young, I've had a vivid imagination. I can create entire scenarios and even worlds in my head. (Translating them onto paper or screen is the hard part.) I also imagine entire conversations — often ones that will never, ever happen. I have lived in a fantasy world of my own making from a very early age.
Once I discovered sex, some of those fantasies became sexual. Not very often in the beginning. Over the years, they intensified, and becoming near daily occurrences in my twenties — especially while I was unhappily married.
I wasn't having the sex I wanted to have, but I could envision it in my head. Or, more to the point, I could envision the person fucking me in my head. Sadly they often looked like the covers of the romance novels I hid from my mom when I was young. But sometimes they were every day people I saw on my commute or at work.
I began sex blogging as a way, in part, to get these fantasies out of my head and put them into words. The sharing was a one-way street, or so I thought. I put thoughts out into the world and others enjoyed them (or not) as it suited them. I mostly wanted to quiet my own mind. It never occurred to me that I might inspire a few fantasies for other people.
Me? Kind of plain, kind of boring, kind of dumpy, me? (Before I get any glares from the people who love me, I spent 30+ years thinking of myself this way — I might not think it now, but I certainly thought it then.)
My ego never swelled enough to believe lots of people considered me attractive or included me in their fantasies. But it's easier (for me) to take a sexy picture or share an intimate moment when I know someone else gets something from it. That's not the only reason for doing it. (If I relied on that kind of feedback on a consistent basis, I'd be miserable — and I'd have stopped sex blogging years ago.)
But I enjoy it when it happens. Sort of.
I enjoy it when it's remote, at a distance. When the desire and fantasies are implied. When the other person is faceless, nameless, and across an internet connection.
Until they tell me. Until I get the message that says, "I saw this picture, and I think you're amazing. I wanked to your naked body."
Then it becomes too real and visceral. It's also thrilling and a little scary — maybe that's why I shy away from it. Because I don't know what it means (if anything) or what's expected (if anything), I don't know what to do. What do I say? How do I react? Is there anything to do?
And I say this as an exhibitionist who gets naked at the BDSM club and loves being spanked in front of a crowd. Sometimes I imagine what it would be like to be wanted by strangers. Desired from across the room. Fantasized about. When I dress up for John Brownstone, I play a little fantasy in my head that other random people will like what they see, too.
I love the fantasy of being wanted. The belief that someone, a stranger, will see me and want me. But the idea of fantasy made real is strange and foreign. I feel off balance and out of place. All my natural awkwardness reappears at the thought of it happening.
It's a strange conundrum.
I don't spend a lot of time fantasizing these days. And I promise this little musing isn't because I think anyone in particular fantasizes about me. But I do find it odd that with such a vivid imagination and a willingness to display myself so fully (and hopefully erotically) from time to time, I don't know how to handle being the object of someone else's fantasies or desire.
For Wicked Wednesday, the prompt is fantasies, so I'm sure that's where the real smut will be this week, 'cause it certainly isn't here.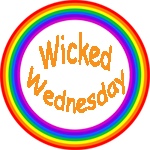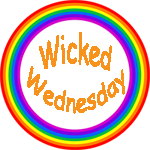 And I'm still writing every damn day in June, which is why you're getting these kinds of random musings.