Too often we (the societal, cultural we) think of sex as penetration, specifically a cock thrusting into a cunt. And, for the record, that's a version of sex I enjoy. But it's not the end all, be all of what it can mean to have sex.
If it was, how would we explain how sex "works" for people who either don't have a cock or a cunt?
You see the problem, right? Sex is however we define it, and in whatever way that yields some form of sexual pleasure.
Here's the thing…even knowing that sex doesn't have to be defined by a single act of a single type of penetration, in my mind, "Sex with John Brownstone" is a cock and cunt thing. He's thrusting away, I'm rocking back and forth, and then…fireworks (or something like it).
Knowing something and acting on it are two different things, and asking for mutual masturbation as sex felt…well…strange. Did it really count? Would it be as satisfying?
Spoiler alert: The answers are yes and yes. 
"When are we going to play with these new toys?"
Yes, this is a real conversation we had. And yes they were all received for free in exchange for an honest review. He had two new toys, and I had one. We also hadn't had sex in nearly two weeks. Not something I'm a fan of.
"I don't know, babygirl. I really don't."
"We could masturbate together. Lay in bed naked and play with our vibrators and strokers."
He teases that I have "too many ideas" but some of them are good ones. This was one of the good ones. Sometimes sex feels a bit performative. We have to get ready, get into position, make sure we're awake enough for it, and that we're into it. Let's be clear, we love fucking each other, but sometimes we're just tired.
Masturbating, with or without toys, always feels like less effort.
He hasn't had to seduce me into sex in a long time (if ever), and we've fallen into a routine (nay, a rut) where no seduction is needed or wanted. So preparing the bed for masturbation probably should have been no big deal, but to be honest, it felt cold. The lights were bright. The sheets were pulled back, all neat and orderly. I had my come towel down on the bed (just in case). He had his lube.
We were like lab rats, if lab rats ever get access to vibrators and lubricant.
I felt so awkward that I couldn't stop chattering, even as he inserted his vibrating prostate massager and played with the remote.
"Did you find a setting you like? How does it feel? Are the buttons easy to press?"
"Uhhh, I'm trying to concentrate over here. Don't you have a vibrator to play with?"
Oh yeah.
The Apollo from Pomello (more on that later) — a vibrator shaped like a finger. Yes, really.
I played with the settings, deciding to start low and slow, see if I could have a slow-burn orgasm, the kind that ripples through my veins and under my skin before exploding out of my body.
While I waited, I watched him lube his cock and insert it into the new stroker. Yes, two sex toys, one man — we're multi-taskers over here.
"Does it feel good? Do you like it?"
"Babygirl!"
Sorry…
The slow burn was working. I felt the tingle in the soles of my feet, a ripple of heat burrowing up my legs toward my cunt. My nipples tightened. My breath shortened.
I swallowed back a scream as the first wave hit. As my hips arched toward the sky, my hand reached out for his. Our fingers locked as I choked out a cry and fluid gushed from my body.
In my post-orgasmic haze, I heard a delicious sound. The sucking and slurping sound of a wet cock in a tight hole. As the orgasm pulled back and started it's slow build again, I watched him, his stroker, and his cock — the tip was so fucking purple. I saw him press a button.
"Weird. I can't really hear your prostate massager vibrating," I said over the buzz of my own vibrator.
No answer.
"Does it feel good?"
No answer.
Somewhere along the way it dawned on me that he wasn't really with me. He has the ability to let go and ride the moment. Me? Well, I was too busy playing with the settings, trying new vibrations, and attempting another juicy orgasm — and thinking, thinking, thinking the entire time.
I never got back to that place, but I didn't mind so much. I had a few shuddery orgasms, not a lot, but some. It was much more pleasant to close my eyes, enjoy the vibrations, and listen to the sloppy noise of his cock in the stroker. I smiled when his speed doubled in the universal switch from "this feels good" to "holy fuck I'm going to come."
He was still catching his breath, but I couldn't resist.
"So…what did you think?"
"Babygirl…"
The conversation would have to wait until later.
Welcome to Masturbation Monday! If you want to learn about one of the toys mentioned in this post, keep scrolling down for the review. But if you'd rather get to the smutty goodness, click the button below! As for the toys John Brownstone used, we've got a review coming out for that very soon.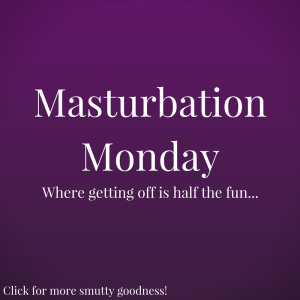 Review: Apollo by Pomello
What can I say about the Apollo? I received it from Gadgets with Benefits, a sex toy seller who's primary target is women with vulvas. They sell sex toys from a variety of manufacturers, but they're nearly all unique in shape and design. Some you'll be familiar with and others you won't. Pomello is a brand I hadn't heard of until now.
So…yes, I got off using the Apollo, and yes, it has a ton of settings to choose from. And also, yes, it's in the shape of a finger — complete with the outline of a fingernail. I'm not gonna lie…that kind of weirded me out a bit.
What sold me on trying it was it's overall shape — big bulbous tips tend to do well on my clit. It's called the "Paris vibrator" because its shaped like the Eiffel Tower. I liked the base which makes charging it easy because it stands up and doesn't roll around. But (for me) that was the end of whether the shape mattered or not. And frankly, the "finger" element distracts from the Eiffel Tower appeal.
My biggest problem with the Apollo is the same problem I have with most vibrators. If I can feel the vibrations all the way into my hand and arm (to the point of distraction or discomfort), it takes away from the overall experience. The buttons were easy to use, which was nice, but I had to switch hands a few times.
Up until about a year ago, any vibrator that made me come once, could make me come multiple times. The Apollo is the next in a long series of vibrators that doesn't do that. I don't know if it's another in a list of toys that's just not powerful enough for my body, or if it's just me. Thankfully, the first orgasm was so good, I didn't mind much. Also, the vibrations felt pleasant even when they weren't getting me off…like a massage for my vulva.
Yes, you can insert it, if you'd like. I would have needed lube and my g-spot isn't a priority for me, so it wasn't worth going through the trouble. What I really liked (although it bothered my hand) was that the vibrations can be felt through the entire length. So when the tip became a little too much, I rested the length across my slit, and it felt great.
Will this one be something I go back to? No. The vibrations through the base and into my hand were too much for me. I couldn't ignore it, and it took away from my experience with it.
Details you might care about:
Color: Purple
11 vibration settings
Material: Silicone
Power: Rechargeable battery with USB cord
Noise level: Fairly quiet, not overly loud at all
Advertised as waterproof, although I didn't use it that way
Regular price: $75.00
Interested? Check out the Apollo by Pomello