Image via Tumblr
"Come here, babygirl."
One hand was wrapped in my hair. The other sought every tender, sensitive place he could easily reach. The dip in my neck where it meets my collarbone. The soft underside of my breast. The tight nipple poking out, hard and insistent, refusing to be ignored.
We'd spent the morning exploring our mutual love of touching one another. Curious fingers. Warm skin. Teasing and tasting each other in the most tactile way possible.
When he grabbed me, pulling me close, I thought he would push me down, over his cock. He did. Just not in the way I expected. He brought my face close to his until I straddled him, teasing my own cunt with the tip of his cock.
I ground my body against his. He loosened his grip, his head falling back, his eyes closing with pleasure. I enjoyed the momentary rush of power that spread through my body, reaching behind to help the two halves of our bodies meet.
As I sank down over him, we both sighed. He grabbed my hips, pushing and pulling until I found the rhythm he wanted. Small, shuddery waves of pleasure rolled through my body. A searing heat coursed, like lava, from my cunt over him, pooling between us.
Did he read my mind? Does he know me so well? When he pulled me forward, holding me in place, lifting his pelvis to meet mine, taking control out from under me, I believed it to be true. This is what I wanted. It's what he wanted.
I lost myself in the slap of skin on skin. In the squelch of fluids and desire meeting. In the bruising crush of his hold – on my body and my mind.
Briefly, in between hot tongue on my nipple and sharp teeth on my flesh, I wondered, "When will he change position?" We may sometimes start out like this, but we never finish that way. He almost never comes like this.
But…I know how his speed changes. I know the sound of his breathing as he nears his own edge. I know the grunts and groans of a man about to explode with pleasure.
Would we?
And then I forgot to think. The slap-slap-slap and squishy sounds of our bodies meeting filled the air around us. The aroma of sex and sin and control wafted over me. I let myself get lost in the moment. Eyes closed. Mouth open. Wanting. Waiting. Needing.
And then….
"Aaaaagghhhhhh!" His hips bucked once, twice, a third time. No I didn't feel the hot jets of anything. I felt the tension in every muscle in his body. I felt the squeeze of his hands. I felt the shudder of pleasure run through his limbs.
Welcome to Masturbation Monday! It was a lovely way to start the day, and truly, more days should begin with morning sex. This week I've got jury duty (and part of next week, too) so forgive me if I keep it smutty and short. Make sure to take a look the other smut being shared this week!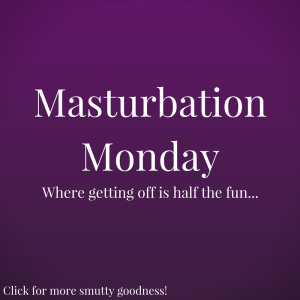 PS: Did you notice the slight change in the badge? If you're a writer/blogger who participates in Masturbation Monday, and you didn't get my email about the changes, you can find new badges (and a few rule changes) on the website. (<=== Or just click there)