Is anyone else as ecstatic as I am that 2017 finally showed the hell up?
In some ways, 2016 wasn't the worst ever. I learned new things about myself. I decided to make my health (physical and mental) a priority. I met new people. I had great sex. On a personal level, 2016 was a year of discovery with plenty of twists and turns in the journey.
Of course, in too many ways, 2016 was the year that wouldn't die. From politics to the deaths of beloved artists, I wouldn't call this one a year I want to repeat. Ever.
So yes, I'm thankful for a new year and the feeling of a fresh start.
On the personal side of things, I'm learning how to relax (yes, it's a skill, and no, it's not one I possess). I'm figuring out the language of my mental health so when things occur I have a name to call it and a way to understand it. If I find that I'm ever able to write about it in a way that makes sense, I will. I joined a gym and may already be addicted to the non-kinky endorphins I'm getting from it.
On a professional side, I'm also learning how to relax, lol. Not everything has to be as intense and serious as I want to make it. Sometimes it's okay to have fun and enjoy the ride. I'm also working on doing less stuff that doesn't matter to anyone (including me) and focusing on things I care most about. I'm as guilty as anyone else of doing what I think I should do instead of what I want because in the back of my mind, I wonder, "What if…"
What if I don't write a blog post on this day? 
What if I don't write as many books as I think I should?
What if I stop worrying about becoming a "serious author" and stick with being a semi-serious, semi-goofy, semi-oversharer blogger, podcaster, writer, whatever the hell I am?
I know I'm a big thinker. I can create entire worlds out of thin air, the fantasy of what might one day be, and a vision of the life I want out of nothing more than an idea or two.
But it's the action required for such big thinking that can send me into a dark corner where I let my anxieties take over.
So for 2017, instead of focusing on the big ideas (which never go away) or worrying so much about the big plans (that never get done as fast as I want), I'm working on baby steps. Small changes. Little things. Because they all add up.
I've committed to going to the gym three days a week, four if it works out. 
I'm writing (by hand with pen and paper, y'all) each night for at least 15 minutes.
I'm narrowing my focus on the blog to what I care about most –  smut, kinky fuckery, sharing good BDSM info, and building a community. If something fits within any of those topics, it stays. If it doesn't, I'm not wasting my energy on it. (With this in mind, I may create other online "homes" for topics that don't fit in this space.)
I'll write down all the things I want to do and the steps necessary to do them, and then slowly check them off the list. No timeline. No deadline. No pressure. 
Baby steps. Small changes. Little things.
Not every thought is a goal.
Not every worry is a catastrophe.
Not every concern is something to be dealt with.
My plan for 2017 is to keep moving forward, a little bit each day, breathing in, breathing out, and working on the small things that bring about big change. In the world of kink. For my mental health. As a professional.
I have a plan. I have a list. I have a goal and a dream. This time next year, however far I've come in 365 days is further along than I was before.
Welcome to Wicked Wednesday! This week's prompt was about the fresh start of a new year. I think I have more to say on this topic, but the words aren't flowing the way I'd like. But I'm deep in thought and action and feeling my way around for what will work for me on a personal and professional level.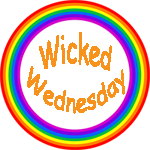 Image Credit: Pinterest