Disclaimer: The Kurve vibrator was received in exchange for an honest review. Affiliate links are included in this post — if you make a purchase, I make a small commission.
I'm all about that bass…and about the clit. So you might imagine I'd have no interest in Kurve, the new G-spot vibrator from Hot Octopuss.
I have a simple philosophy when it comes to vibrators: Anything can be a clitoral stimulator if you're creative enough. What I love about the Kurve is that I didn't have to get creative or ignore "bunny ears." Spoiler: The Kurve's curves fit against my curves juuuuuuust fine.
It's been a hot minute since I masturbated or had an orgasm (probably since the last sex toy review). The longer I go without either, the easier it is to keep not doing it. Even when the vibrator I definitely want to try arrives, from a sex toy maker who KNOWS how to do vibrators well (See: my love of the DiGiT).
The longer I had the Kurve in my possession, unopened, uncharged, unloved, the more pressure I felt to do something with it, while also feeling less desire to do anything with it at all. Thanks, libido. You're not exactly doing me any favors here.
In mid-procrastination, I worried that this might be the one Hot Octopuss toy I wouldn't love. According to the handy diagram in the box, the bass setting (deep, rumbly vibrations) sits towards the bottom of the vibrator and the treble (slightly less rumbly vibrations) sits towards the tip. Would I actually enjoy whiny vibes against the lover of all things bass that is my clit?
Once you have one worry, it's easy to have another. What about that soft, pliable tip at the end? Could it feel good? Would I even be able to penetrate myself with it, even if I wanted to? Sure, it feels good between your fingers but what about between your lips?
So yeah. I got myself slightly "worked up" (which manifests as total avoidance) over a sex toy I desperately wanted to love but knew I might not. I dislike conflict so much I'll avoid it with inanimate objects too.
But my procrastination knows no bounds, so when I needed to avoid something else, that was the perfect time to try the Kurve. If you've been around here for more than a minute, you know my drill: Naked. Towel down (I'm a sometimes-squirter and a person who hates wet sheets). Lean back. Enjoy (hopefully).
I started with the bass settings. No patterns. Highest level. That's pleasant.
What about that treble, though? No patterns. Highest level. This too is pleasant.
But what would my clit think? She's not exactly particular as long as the vibes are deep and rumbly.
I have it on good authority that she thinks it's great. 14/10, would recommend.
I know it's called the "Kurve" because the curve is meant to sit inside nicely against your G-spot. And it does. My G-spot could give two shits about it, but it does what it claims to do. But when I realized that the curve also sits beautifully against my vulva, the real magic happened.
The tip feels good against my clit. And above the clitoral hood…and below it, too. But the moment I placed the shaft of the vibrator against my vulva, I knew I'd found the sweet spot. For the first time (ever?), I actually ground against my vibrator while it rumbled along quietly. How quietly? Check out my IGTV video to hear for yourself.
The Kurve may be quiet, but I'm certainly not. I felt the vibrations in my bones. The stimulation was external, but the pleasure ricocheted off the inside of my body, ping-ponging from the soles of my feet to the base of my skull. I cried out. Thrashed against the pillow. Clamped my thighs around it as if to contain the sensations.
For once I didn't count orgasms or pay much attention to the build-up. I rode the Kurve and the waves of pleasure.
Want to see it up close? Check out this image gallery:
About the Kurve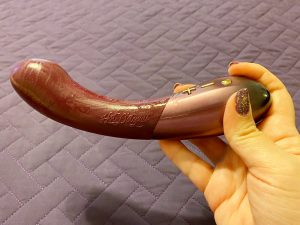 That write-up is a little bit all over the place, but so am I. For this review, I masturbated when I wanted to because I wanted to and how I wanted to…instead of "the best way to write the most comprehensive review." If you're looking for that, try here or here (both are excellent!).
I might have been nervous I wouldn't like the Kurve because G-spot toys aren't my jam, but I expected to like it because Hot Octopuss knows vibrations. If they can cram a bunch of power and pleasure into something like the DiGit or Amo, they should be able to bring it with the Kurve. And they did.
Yes, I penetrated myself. No, I didn't get off when I did, although it felt nice. So I'm speaking as a clit-focused orgasmer who tends to use vibrators during penetrative sex. And I think this will be PERFECT for that. The tip feels good against my clit and the shaft fits neatly between my thighs. The vibrations can be felt up and down the shaft so I can feel it at almost any angle.
And unlike previous Hot Octopuss vibrators, the buttons are EASY TO USE.
Let's look at some pros and cons…
Pros:
Deep, rumbly vibrations
Easy buttons
Waterproof
Made of silicone and ABS plastic
Rechargeable
Quiet
Not just for the G-spot
Great for grinding
Two motors to choose your stimulation
Multiple patterned settings (not that I use them, but I like having options)
Cons:
The thing I hate about most vibrators: The vibrations could be felt all the way into my hand.
The separation between the silicone and the plastic could be hard to clean depending on how "messy" you are. Between lube and body fluids, if you're not careful, that line could get gunky and gross.
The treble is more concentrated at the tip and the bass is more at the base of the vibrator. I wish the entire thing was bass or that I could choose where to focus the sensations. That being said, other than a tinny, whiny sound from the treble side, it all felt rumbly to me, especially when paired together.
Will I use it again? Hell yes. I can't speak to the G-spot pleasure because that doesn't work for me. But my clit loves it, wants more of it, is already planning when to enjoy it next, and might actually wake up from a very deep hibernation just to use it again. So…yeah, let's call this one a success.
Curious about the Kurve? Click here to learn more.
Want to check out other Hot Octopuss products? Shop here.