Disclosure: I received the Poco by Mystery Vibe in exchange for an honest review. Also, there will be affiliate links included in this post — if you click a link and buy a thing, I make a commission, which supports my coffee addiction, among other things.
I don't let much get in the way of my coffee. But I also believe that the best way to get something important done on a busy day is to do it as early as possible. Maybe that explains why I found myself playing with buttons and reading through how-to info with nothing but a t-shirt on, my eyes still crusted with last night's sleep. Or maybe I just wanted a fucking wank, and 7:45 in the morning was the best time.
Either way, there I was, exploring the Poco, bending it with delight. Because the joy of a bendy sex toy is a genuinely rare treat in most people's lives, I think, including mine.
I pushed buttons. Looked at diagrams (yes, really, diagrams). Then shoved all the blankets to the side, spread my come-towel (I'm ever an optimist about my own orgasmic abilities) over my side of the bed, and finished taking off my clothes.
(Side note: why do I need to be fully naked to masturbate? Fuck if I know, but it's a thing I like to do, so I did it.)
Pre-caffeine, I possess few (if any) coherent thoughts. Weirdly, it made for a more focused masturbatory experience. Instead of thinking about the eleventy-million things on my to-do list, I concentrated on the task at hand. Masturbate, damn it. Hopefully, get off. Start the day. (Look, I didn't say I was cheerful in my focus, only that I concentrated.)
And I did. The buzzing of the Poco ran from the toy into my hand until my fingers felt like a nest of murder hornets about to explode out of my fingertips. But the buzzing on the other end (ahem, against my clit, obviously) caught my attention soon enough.
It didn't work in my usual position — on back, legs spread. I mean…it felt nice. But, there were none of the bone-deep throbbings and pulsing that spread from the center of my body out to my limbs that I wanted. Maybe my clit needed coffee.
Until I remembered one of those diagrams (in the Poco playbook/guide). It showed a person on their side with their thighs clamped around the vibrator. A more comfortable position and letting my thighs take over for my buzzing hand? I mentally shrugged. How bad could it be?
Coffee has never woken me up or filled my body the way those next few orgasms did. With the weight of my thighs pressing the Poco against my clit and the shift in position, I came with cunt-pulsing throbs and throat-aching screams. I felt my heartbeat in my clit and still, I didn't open my thighs or grant myself relief from the vibrations. First one, then another, my pleasure rushed out of my body in rivulets, soaking the towel (and the bed) underneath me.
Finally, when I could take no more, I pulled this bendy little vibrator away, looking at it in no small amount of wonder. If it felt that good alone, what would it feel like with John Brownstone deep inside (in that same position)?! I knew I would have to find out soon. Until then, I needed to start my day.
(Second side note: Pre-coffee orgasms are magical. By the time I got out of the shower, I had half a plan worked out to make morning masturbation a daily routine thing AND blog about it. Did the Poco give me back both my masturbation AND sex blogging mojo? If so, it might be better than coffee. On the other hand, I've made no moves to put that plan into motion, so maybe it was the post-orgasmic bliss talking.)
Review: Poco by Mystery Vibe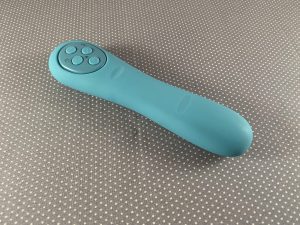 I barely used the Poco to its full potential and I still really enjoyed it. To get the most out of it, I should have used the Mystery Vibe app, but I hate using apps and sex toys together. When I finally masturbate (or fuck) I do it to disconnect from my highly connected digital life. The last thing I want to do is scroll through anything on my smartphone. So just know there's an entire component I'm not reviewing here — so before you buy, check out better, more thorough reviews. Although, if you check out my 2016 review of the Crescendo by Mystery Vibe, I share a few details about the app there.
The good:
It's super quiet. No obnoxious, obvious buzzing here.
This fucker bends, y'all! I played with this part because it was fun, but straight on my clit was fine with me.
Mystery Vibe gives you a TON of ideas on how to play. A few tips intrigued John Brownstone when I showed him later. I believe our resident Daddy Dom/sadist has a few plans. The Poco playbook was definitely an interesting addition and helpful.
I got off quite a few times, but I think the real magic will happen when we play together.
The meh:
The buttons are…meh. This is where the app I mentioned before would be better. But NOPE NOT FOR ME.
The buzzing running through my hand sucked, though I understand why because the tech runs from end to end inside the Poco. But I still felt a tingly sensation in my fingertips 15 minutes after I put it down, and I didn't like that at all.
The built-in patterns and intensity only took me so far, especially after I got off. It wasn't quite intense enough to get me going for the second round of orgasms like a larger or more powerful vibrator would probably do.
Standard(ish) stuff:
The Poco is rechargeable and waterproof(ish). Because one end has an open charger port, you can't submerge it in water. But getting the vibrating tip wet is fine.
Technically it's a toy for anyone and everyone, including couples.
Would I recommend it? Yes. I'll know how highly I recommend it once I try it during sex with John Brownstone. But as our sex life has slowed way the fuck down for many reasons, it may be a hot minute before I know. And I didn't want to make anyone (ahem, including Mystery Vibe) wait for my review any longer than they already had.
Thanks to early holiday sales (as of the time of publication) it's also one of the more affordable sex toys I've reviewed recently. (Don't get me wrong, it's not a $20 finger vibrator, but it's not triple-digit pricing either.)
Regular price: $89.99
Current price (November 13, 2020): $71.99 or 20 percent off
Want one? Want a closer look? Check it out here: Poco by Mystery Vibe
Click on the photo gallery below to see it from different angles, including how bendy it is!