I don't scrape and bow and kneel every moment of the day. I do, however, serve. For anyone who thinks BDSM, D/s, and specifically submission is all about following, think again. Sometimes, in order to serve a Dominant, you have to take the lead.
Memorial Day. It was supposed to be a fun, relaxing family holiday. John Brownstone finally bought a new grill. All he wanted out of the new home purchase (other than a safe, clean place to live) was a garage and a grill. The garage part was easy. The grill had to wait a few weeks.
He invited his sister, L, and her, hmmm, he's not her boyfriend, he's not her partner, but he is the father of her youngest and a huge help in her life, not sure what to call him, except A, and of course, their son (E), who's the same age as my oldest, over for a cookout. For those who don't follow my Daddy's blog (and why not?! Kidding!), you won't know the whole story. His sister has stage four colon cancer that has spread to her lungs, liver, blood, and lymph nodes. It's incurable and devastating for the whole family. She's unable to work and quickly coming to the end of her long-term disability as she was diagnosed almost a year ago. Their mother was helping to take care of her until selfishness prevailed and her mother walked away from all of it. (Sad but true.) Between A, Daddy, his baby sister, and myself, we help her as much as we can. It's not enough because she's slowly getting to the point where living on her own won't be an option.
Okay, now that I've depressed you all, you need to know that this woman is also tough as nails and has an amazing spirit. I drive her to the majority of her appointments – blood work, pump removal (it's how she gets her chemo), fluid and shots, scans, and I've gotten to know her over the past several months. Daddy goes to every chemo session and tries to go to the big appointments – CT scans, MRIs, etc. For the first time in months, May was a bad month, and she's been at the doctor's office at least three times a week, sometimes more. She's adjusting to a new normal in the progress of her cancer. As I write this, she's using a walker to get around her house when she's alone – which she is more often than not, although A (the one I can't seem to label) does more than most. He comes over to mow her lawn, clean her house, and he stays the night after big treatments like chemo in case it wears her out too much and he picks up her medication from the pharmacy. He does it for no recompense and no recognition. Daddy and I respect and admire him more than most people we know.
Back to Memorial Day. I cleaned like a madwoman, cooked like a fiend, and prepared our house down to the tiniest detail (the napkins and paper plates had a specific place they needed to be and woe to the one who moved them). L doesn't drive and currently has no car (another long, crazy story), and although we live almost an hour away now, Daddy went to pick everyone up and bring them over. I was frosting cupcakes when they arrived. We should have known it was going to be a rough day when L fell trying to get in our front door. (Daddy found her walker for her the next day.)
She laughed it off, and I swallowed down a bad feeling. A didn't come with – there had been an argument between them in front of her son and her sister. L put him out of her house like the teeny-tiny Italian woman she is – cancer or not, she won't allow disrespect in her home. I agree with A's argument (why isn't she getting more help from family) but his method wasn't great. So just two instead of three. Well, okay, at least I knew there would be leftovers to send home with her.
We visited. We ate lunch. Daddy had a blast with his new grill. We watched a movie. Then it happened.
L's back exploded in pain that left her pleading with anyone and anything to make it stop. We helped her take her pain meds. We encouraged her to take a second pill because she'd been told it was safe to do when things got bad (when, not if). Then we sat and waited. And waited. We waited while this tough-as-nails woman begged for mercy, begged for the pain to stop, begged for any kind of relief, and broke our hearts because we knew this was becoming her new normal.
Daddy is the oldest of the three siblings and the only boy. He's the prodigal son to his mother and a support system to the rest of the family, including L. He's often the only one with a plan of action who can stay calm in the middle of a storm. Everyone in the family leans on him and looks to him to be The Decider. Over the past year, it's been a heavy burden for him.
In this instance, he was helpless. All he could do was sit next to L, rub her back, and ride it out with her. I sat to the side mouthing, "Should we take her to the hospital?" as her cries became more pitiful. Neither of us knew exactly what to do, but we knew we had to let the meds kick in and see what happened. What happened was that she fell asleep/passed out. It wasn't a true sleep at first because her hand hung in the air, clawed and tense, grasping towards something unseen.
He had to walk outside and calm down. I watched her breathe. Not that she'd given us any reason to think she'd stop breathing, but I didn't know what else to do. Finally, a few minutes later, her hand relaxed and we knew she'd fallen asleep as the pain meds took hold. We walked into our bedroom and held one another. I'd cried through the whole thing, while I'd caught tears in his eyes a few times. Now, we just breathed together. The whole episode lasted an hour or so, but it felt like a lifetime. When she woke up, we waited, unsure of whether the pain would come back or if we'd need to call 911. She was unsteady on her feet after that, but seemed almost normal.
To say it was a wake up call for both of us and a new understanding of what was happening with her, would be a massive understatement.
Because he had to take her home and we kept her with us for a while to make sure she was going to be okay, it was after midnight before we went to bed that night. Not that Daddy could sleep. I could feel the stress coming off of him in waves. His feelings and emotions are something I feel physically. I know it doesn't make sense, but when he's in pain, I become nauseous. When he's stressed and exhausted, I become teary and frazzled. We feed off of each other's energy, I suppose.
Two days after Memorial Day, and he was exhausted although he'd slept for 10 hours the night before. He had zero energy, zero drive, zero anything.
Since the episode on our couch, I'd heard him choke back sobs. I'd held his hand as he told me what the doctor said at her chemo appointment (which was the day after all this happened). I cheered him on when he admitted that he told the doctor what happened because L tried to down play it all. He was an emotional wreck. It was too much for him.
I knew I had to do something.
First, you have to understand that although Daddy is always in charge, we have an agreement that when he's sick I can apply as much tough love as needed to get him better. Stress and exhaustion make people sick, so I treat it the same. It was time to bring out the big guns.
I started slow. A bit of sass. I may or may not have stuck my tongue out at him. I may or may not have "argued" with him playfully over anything and everything. I needed to tweak him a little until he responded to the sassy snark. It didn't take long.
"Girl. Are you being brassy?" (For the record, that's a combo of bratty and sassy.)
In my sauciest voice, "Uh huh!"
A few smacks on the ass and pinched nipples, and he seemed more normal. That was one day out.
The next day, he was still low energy and stressed to the max.
"Okay, I've made an executive decision." He looked up from the game on his phone (the one he'd had his nose buried in for over an hour). "The boys are having sandwiches and going to their room to play on their tablets until their eyes and fingers bleed."
He looked really confused.
I continued. "And I'm ordering Chinese food and we're watching Big Bang Theory all night long. No questions asked. Got it?"
He smiled the smallest smile. "Yeah, that might be nice."
An hour later, we were stuffing ourselves full and laughing hysterically. Everything else was forgotten. For one evening, we blew off our routine, we filled the boys with ice cream and let them loose to play as much Minecraft as they could stand, and we relaxed…and ate our feelings in the form of yummy Chinese goodness.
That night in bed, my ass stung from a few well placed swats. He'd pinched my nipples hard and helped me take a Boobday picture (or 20). His energy was almost normal again.
"Thank you, babygirl."
The next morning, he kissed me with such force that I actually felt the moisture flood my pussy and my breath was literally taken away. He was back.
Here's the deal, I don't really think I did much, but I did a few small things that I knew would help him. I just needed to give him the opportunity to take his mind off of things and re-charge a little. Serving him as my Daddy, my Dominant, and simply the man I love is about taking care of him in whatever way necessary. Sometimes that means becoming The Decider for a minute. Could we really afford an unplanned take out meal in the middle of the week? Not really. Did it help him get back to normal and come out of his head? Absolutely. If the expense had been ten times as much, it would have been worth it.
Relationships, D/s or vanilla, are about the people in them, regardless of the roles you assume. Sure, I'm a submissive, but that doesn't mean doormat and it sure as fuck doesn't mean helpless. Sometimes you have to stand up and take control of a situation in order to serve. Sometimes you have to put aside the "Yes, Sir" and "Anything you want" and give them what they need, even if they can't see it for themselves.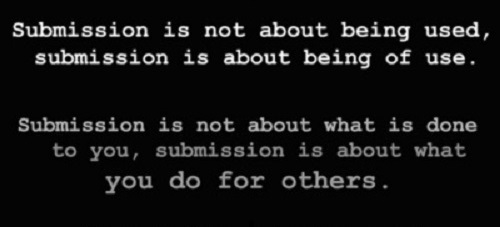 Images via Google Images